Join the Team
Friendship. Leadership. Teamwork. Comradarie. Integrity.

Whe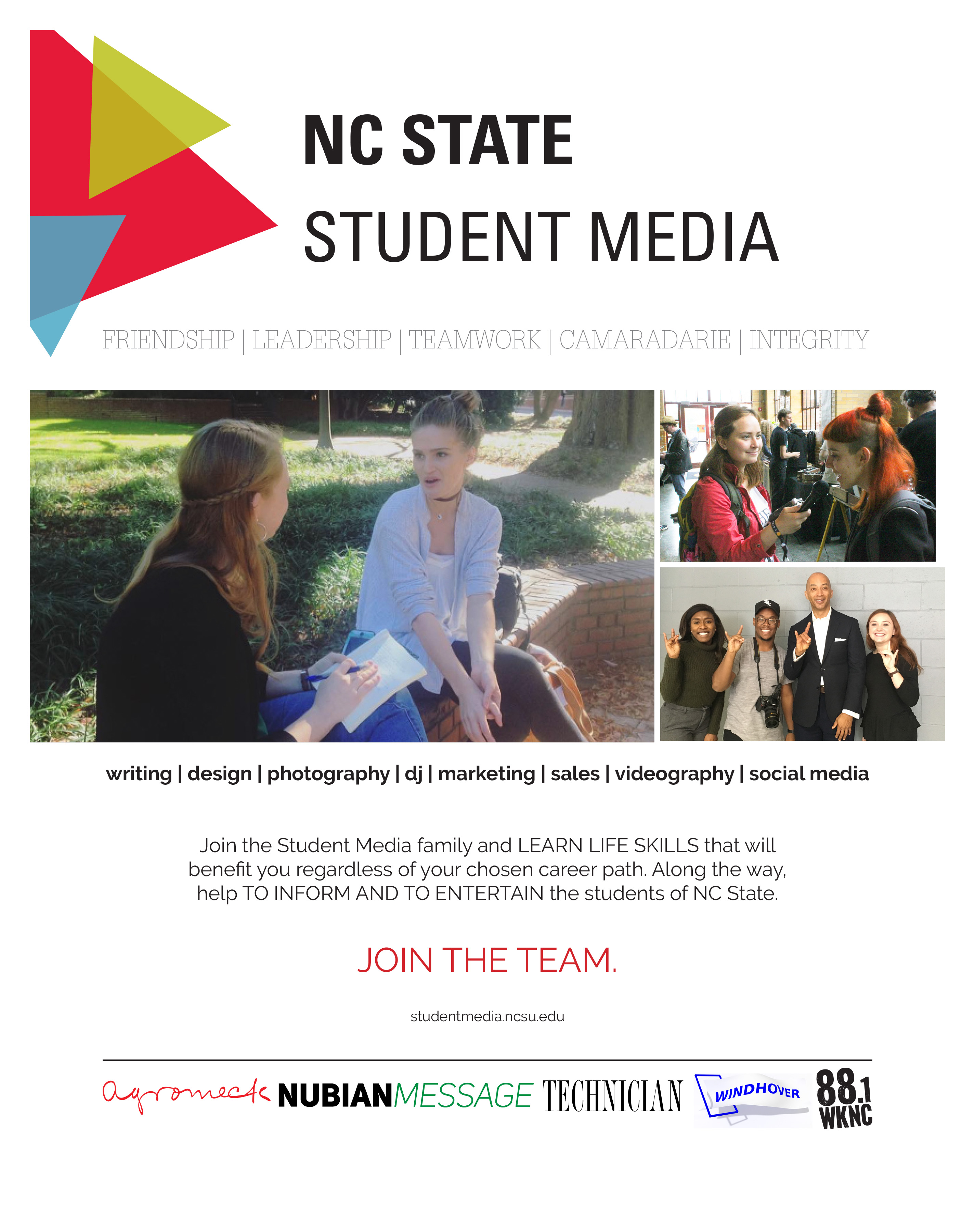 n we surveyed the students working for the Student Media at North Carolina State University, we learned what skills they value as part of their experience working for a radio station, literary magazine, daily newspaper, weekly newspaper, yearbook, sales and marketing team or online medium.

Jobs
Our students have proven successful during their college years—where some 50 percent of the students entering the program say they have no intention of pursuing journalism or a related field as part of their career path but 80 percent of those when they graduate report pursuing a career in journalism or a related field—and beyond. Graduates have gone to work for such organizations as News 14 Carolina, ABC 11, NBC17, WRAL-TV, CNN, Orlando Sentinal, Capstrat Communications, Terrorbird Media, Raleigh Public Record, Reporters' Lab, Raleigh News & Observer and USA Today. There's also doctors, lawyers, teachers, scientists and engineers across the globe who once called Student Media home.
All non-entry level positions within the Student Media are paid positions. Even some entry-level positions are paid with reporters and photographers earning money for published work. To be eligible, students must complete all training classes, be eligible to work in the United States and complete all necessary paperwork.
Internships
We've had students do internships at the Cary News, News 14 Carolina, WRAL-TV, WUNC-FM, Detroit Free Press, St. Petersburg Times, Fauquier-Times Democrat/Citizen, Evening Sun (Hanover, Penn.), The Monroe Evening News (Monroe, Mich.), North Carolina Wildlife Resource Commission, Independent Weekly, washingtonpostonline.com, USA Today online, Merge Records and the NC State Alumni Association. We've even had a student selected to participate in the most prestigious newspaper internship program sponsored by the Dow Jones Newspaper Fund.