WKNC honored at Student LEAD Awards
Submitted by

Jamie Lynn Gilbert

on Thu, 04/20/2017 - 10:54am
WKNC students and their adviser were honored at the third annual Student Leadership, Engagement and Development (LEAD) Awards Thursday, April 19 at Talley Student Union.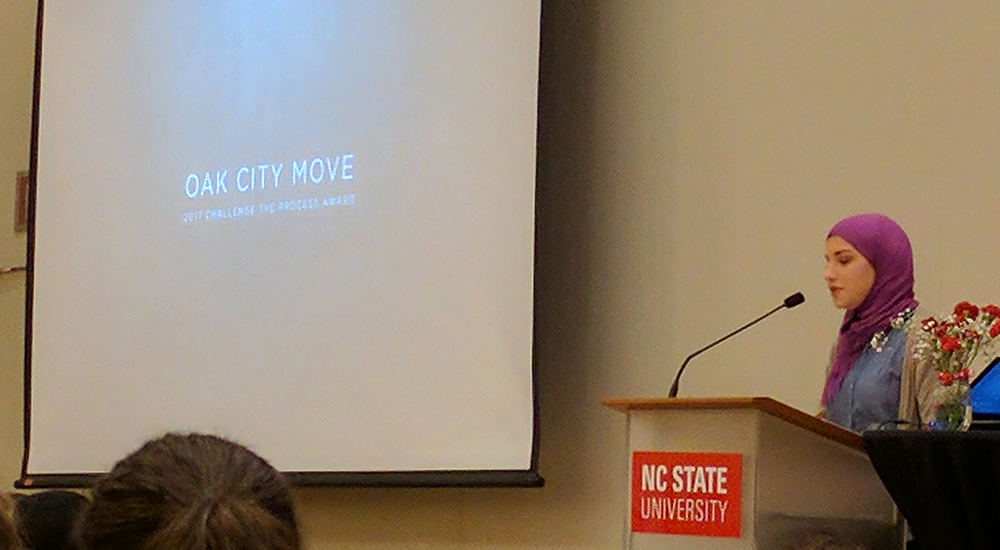 "Oak City Move," a radio program started in February 2017, was awarded the Wolfpack Leadership Challenge "Challenge the Process" award. Named for Jim Kouzes and Barry Posner's "The Leadership Challenge" book, the award "recognizes individuals, programs, or organizations that continuously look for new ways to challenge the status quo. Innovation, experimentation, and risk-taking are hallmarks of the applicants for this award." Phian Tran, a senior in agricultural business management, created the program with co-hosts Sara Darwish, a freshman in social work, and Kaanchee Gandhi, a senior in graphic design.
The program's mission statement is "to highlight positively influential movements based in North Carolina that implement effective solutions supporting underserved or minority groups, call attention to organizations spreading cultural competency, and showcase artists that empower, inspire, or incite change."
Accepting on behalf of the program, Darwish said one of the highlights so far was to receive positive feedback from Sen. Jay Chaudhuri during their first episode.

"Oak City Move" airs Fridays from 9-11 a.m. on WKNC 88.1 FM. The program is also available as a subscribable podcast.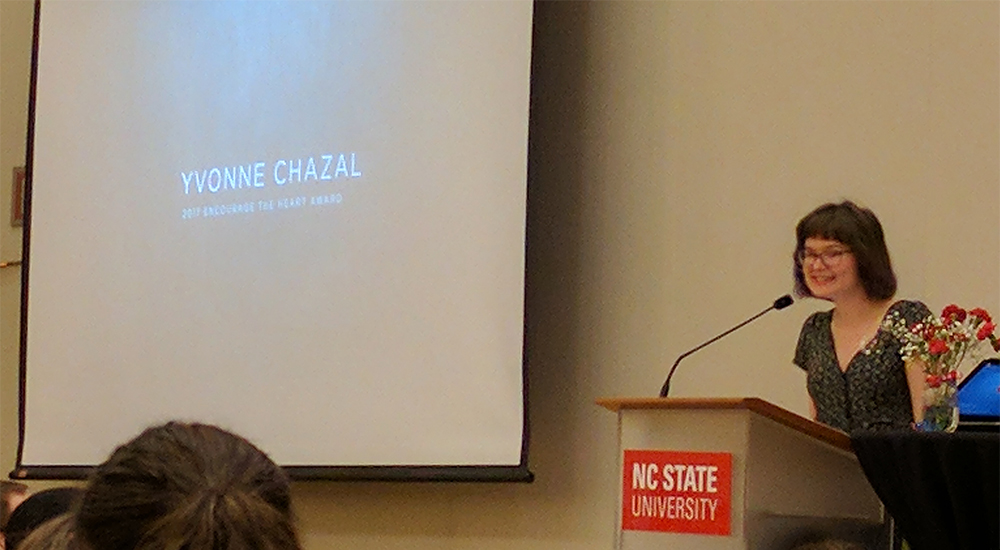 Yvonne Chazal, a graduate student in mathematics, was honored with the Wolfpack Leadership Challenge "Encourage the Heart" award. This award "recognizes individuals, programs, or organizations that take great pride in the work they do, and spend time celebrating and rewarding the efforts those who make great things happen. Leaders encourage the heart by infusing hope and determination into hard work, and recognize their peers with high praise." 
Chazal serves as WKNC's special projects coordinator and previously held the positions of program director, promotions director and operations manager. She was nominated by WKNC adviser Jamie Lynn Gilbert.
"Yvonne is a true embodiment of the encourage the heart leadership practice," Gilbert said. "From her first day at WKNC, Yvonne has served as a beacon of encouragement to all her fellow staffers." Her enthusiasm and support also influence her roles as a member of the Caldwell Fellows and tutor for the Academic Support Program for Student Athletes.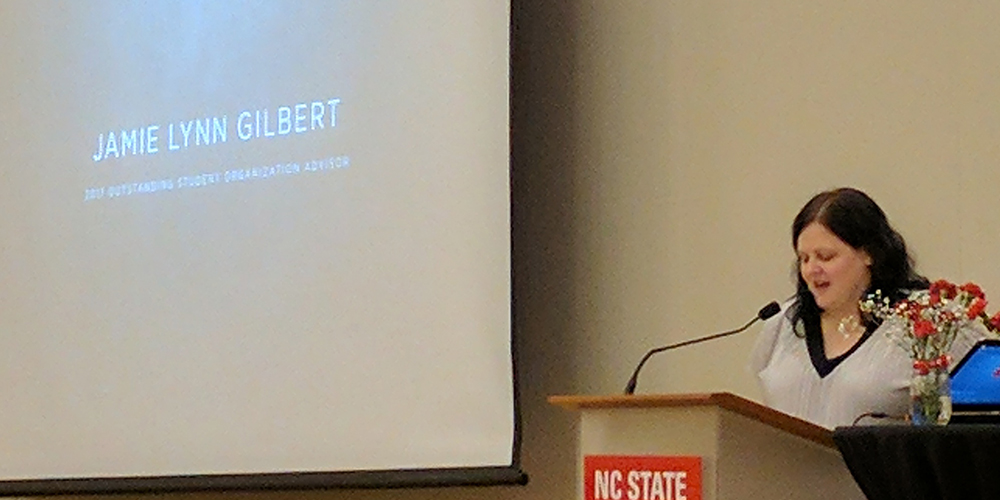 Gilbert received the 2016-2017 Outstanding Student Organization Adviser Award. The award recognizes faculty and staff advisers who have rendered extraordinary service to both their organizations and the University community as a whole.
In accepting the award, Gilbert said she was fortunate to advise students who were extremely dedicated. "My job is to support and champion their accomplishments, so I am especially honored so many of them are here tonight with me to be recognized on their own merits," she said.
Gilbert will begin her 11th year as adviser to WKNC-FM next month. In addition to her work at NC State, Gilbert has spent seven years serving student broadcasters across the country as a member of the College Broadcasters, Inc. board of directors. 
Gilbert was not the only Student Media adviser recognized at the event. Editorial Adviser Ellen Meder was a finalist for the award, which meant two of the three nominees were members of the Student Media advising team. 
WKNC was also a finalist for a Student Organization Outstanding Achievement Awards for Outstanding Internet & Social Media Presence Award. The radio station has more than 25,000 followers across eight social media platforms.
Started in 2015, the Student Leadership, Engagement and Development (LEAD) Awards program honors the work of individuals and groups demonstrating outstanding service and co-curricular excellence. Awards were presented in service, leadership and engagement categories. Student Media was previously honored in both 2016 and 2015 in a number of categories.
Patrick Neal contributed to this article.