Flowers receives Award for Excellence
Submitted by

Jamie Lynn Gilbert

on Fri, 04/28/2017 - 9:37am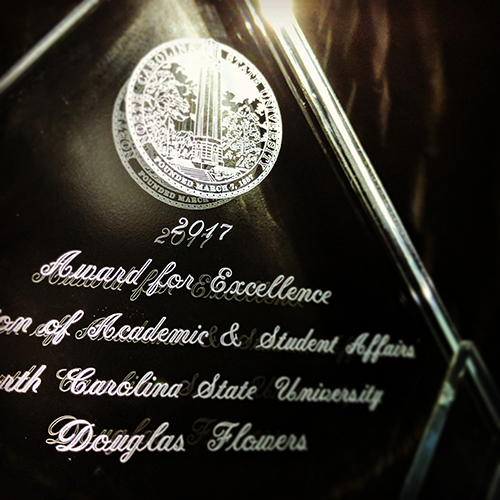 Doug Flowers, IT manager for DASA Technology Services, received the Award for Excellence at the Division of Academic and Student Affairs end-of-year ceremony April 25 in Talley Student Union.
Given annually, the NC State Award for Excellence is the most prestigious honor awarded to non-faculty staff members. Of the DASA 17 staff members nominated this year, Flowers was one of three award recipients. 
Flowers and other award recipients from across the University will be honored at the NC State University Awards for Excellence ceremony on June 7, where five individuals will receive special distinction as recipients of the NC State University Awards for Excellence.
Flowers was nominated by colleague Jamie Lynn Gilbert, Associate Director of Student Media, in the efficiency and innovation category. The category "recognizes a candidate who has made a significant contribution in improving the effectiveness of a service or program resulting in new or improved innovations, efficiencies, or cost-savings."
In the nomination letter, Gilbert focused on the improvements Flowers has made for student radio station WKNC, including overhauling the station website, leading efforts to upgrade WKNC to HD radio, redesigning web infrastructure, creating scripts to automate data collection and other services, and mentoring a student engineer.
"Doug has undoubtedly solved the unsolvable for other departments on campus as well," Gilbert wrote. "All the while, Doug provides an unparalleled level of support. He explains complex procedures in layperson's terms and always listens to what the department needs. Doug sets a high benchmark for his coworkers and is very worthy of this recognition."
Flowers was previously awarded the Pride of the Wolfpack award in 2014. As IT Manager for DASA Tech, he provides support for Student Media, Student Involvement, CSLEPS, University Theatre, the Music Department, Military and Veteran Resource Center, Student Legal Services and the Career Development Center.