WKNC raises $6,000 at Double Barrel Benefit 13
Submitted by

Jamie Lynn Gilbert

on Tue, 03/01/2016 - 4:58pm
WKNC 88.1 FM raised $6,000 from its Double Barrel Benefit 13 event, an annual two-night concert that serves as one of the station's primary fundraisers. Money raised from events like this account for about 14% of WKNC's annual operating budget.
Double Barrel Benefit 13 was held Saturday, Feb. 13 at Kings in Raleigh and Saturday, Feb. 20 at Cat's Cradle in Carrboro. This marked the third time WKNC hosted the event on two different weekends and on two ends of the Triangle. The station's 25,000-watt signal can be heard throughout the region.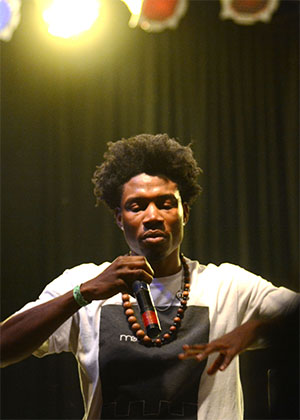 Nearly 300 people attended the first night of Double Barrel Benefit 13, selling out Kings during the first act. Pittsboro, N.C.-based singer/songwriter, Aimee Argote, better known as Des Ark, headlined the event with support from Schooner, Museum Mouth and Naked Naps.
Charlotte rapper Deniro Farrar headlined the second night of Double Barrel Benefit, bringing more than 250 people to Cat's Cradle. Professor Toon, SkyBlew and Earthly opened the show. Charlotte rapper Baby Jesus also played a short set.
"While some of our previous Double Barrel Benefit shows have included multiple genres, DBB 13 is the first time we have devoted an entire night to non-indie rock artists," Jamie Lynn Gilbert, WKNC's station adviser, said. "WKNC has block programming in indie rock, hip-hop, electronic and heavy metal and it's time we shifted some of our focus to highlight more of the music we play at the station." 
A number of local businesses supported WKNC through cash or in-kind donations for Double Barrel Benefit, including Merge Records, New Belgium Brewing and Fair Game Beverage Company. Monetary sponsorships accounted for more than a third of the event's revenue.
"It's always awesome to see the support from our community," Matt Brown, WKNC general manager, said.
WKNC is student-run non-commercial college radio from North Carolina State University. The station plays indie rock Monday through Friday from 5 a.m. to 8 p.m. Other formats run 8 p.m. to 5 a.m. Underground hip-hop airs on Saturday, Sunday and Monday, with Afterhours electronica on Tuesdays and Wednesdays. The heavy metal format, called Chainsaw Rock, runs Thursday sand Fridays. Weekend programming is a mix of specialty shows, including Americana, Spanish, South Asian, post rock, punk, a capella and world music.