WKNC Double Barrel Benefit X raises more than $5,500 for radio station
Submitted by

Jamie Lynn Gilbert

on Tue, 02/05/2013 - 4:48pm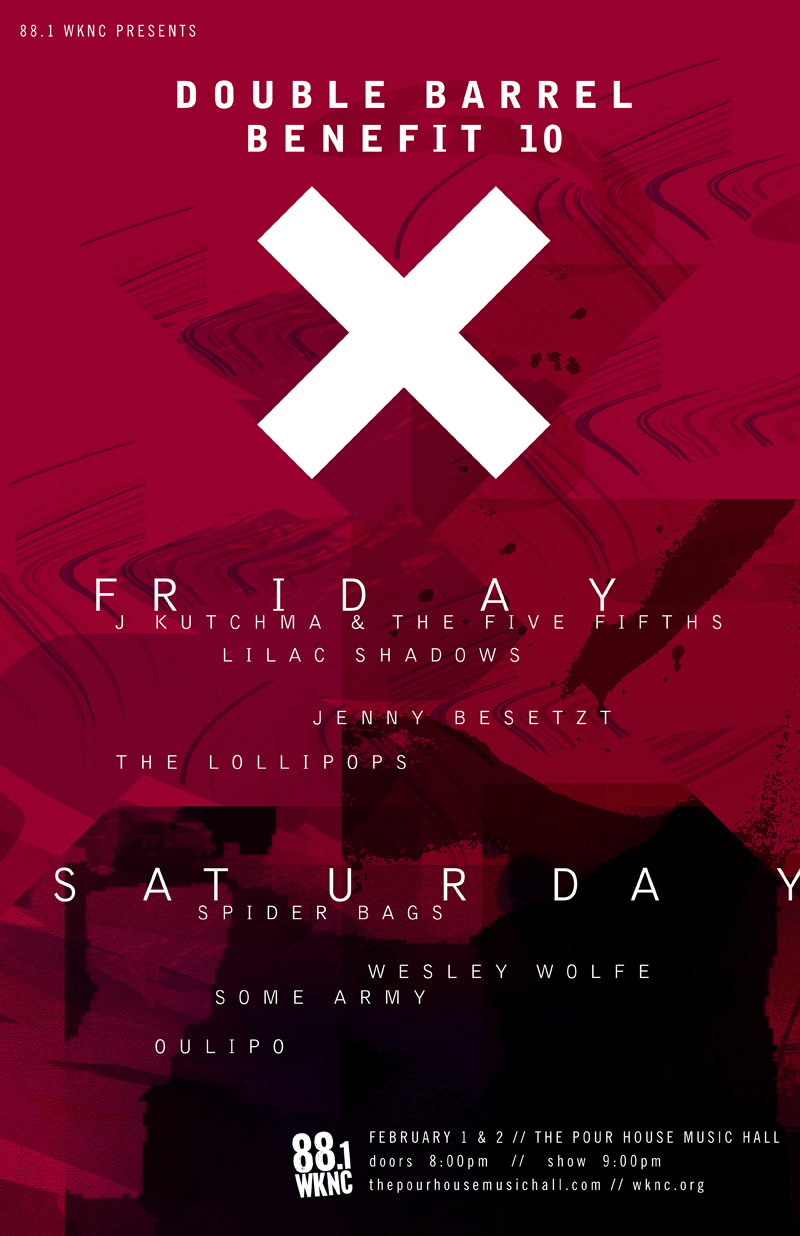 WKNC's Double Barrel Benefit X brought more than 500 people to The Pour House Music Hall Feb. 1 and 2 to support local music and the local radio station that brings it to them.
Now in its 10th year, the annual two-night fundraiser showcases new North Carolina talent alongside established members of the music scene. As a perfect example, Friday's opening act The Lollipops didn't even exist this time last year, while Jason Kutchma of headliner JKutchma and the Five Fifths has been playing the Triangle since 2005. Kutchma and his band Red Collar also headlined Double Barrel Benefit in 2008.
"Ultimately we want to provide a lineup that people will remember," Michael Jones, WKNC's general manager, said. "It's a mix of finding artists on the rise that are willing to play alongside those established artists in the area that we know our listeners will love. That's been the case for all 10 Double Barrel Benefits."
The event generated $4,425 in ticket sales, with the rest of the income coming from sales of WKNC merchandise, including DBBX T-shirts and new pint glasses bearing the station logo, and a raffle sponsored by Pabst Blue Ribbon and Cat's Cradle. The top prizes were a PBR snowboard each night and tickets to Cat's Cradle's sold-out Alt-J concert on March 5.
Double Barrel Benefit X also included a Day Party and Market held Feb. 2 at Tir Na nOg Irish Pub and The Pour House Music Hall. Now in its second year, the afternoon event featured 20 local artists, artisans and vendors along with six bands performing alternating sets between the two venues.
WKNC 88.1 FM is N.C. State's 25,000-watt student-run non-commercial radio station featuring indie rock, electronic, metal and underground hip-hop. The station devotes eight hours of programming each week exclusively to music produced in North Carolina with "Local Lunch" each Monday through Friday at noon and "The Local Beat," a three-hour music and talk program beginning each Friday at 5 p.m. With an annual operating budget of less than $60,000, revenue from Double Barrel Benefit accounts for between 10 and 15 percent of the station's total income.