Agromeck distribution across campus
Submitted by

Jamie Lynn Gilbert

on Fri, 04/20/2012 - 4:29pm
The 2012 Agromeck yearbook has arrived. The 591 students who had their senior portrait taken can come pick up their free copy at a special reception Monday, April 23 from 5-7 p.m. in the Washington Sanfoka Room in Witherspoon Student Center. Beginning Tuesday, April 24 graduating seniors and others pictured in the book can pick up a copy on a first-come, first-served basis from the Student Media offices on the third floor of Witherspoon or at one of three distribution events:
Tuesday, April 24 from noon to 3 p.m. in Caldwell Lounge
Wednesday, April 25 from noon to 3 p.m. in D.H. Hill Library main lobby
Thursday, April 26 from noon to 3 p.m. in Caldwell Lounge
Beginning in 2010 a special student fee allocation has allowed Student Media to distribute 1,000 free copies of the Agromeck each year.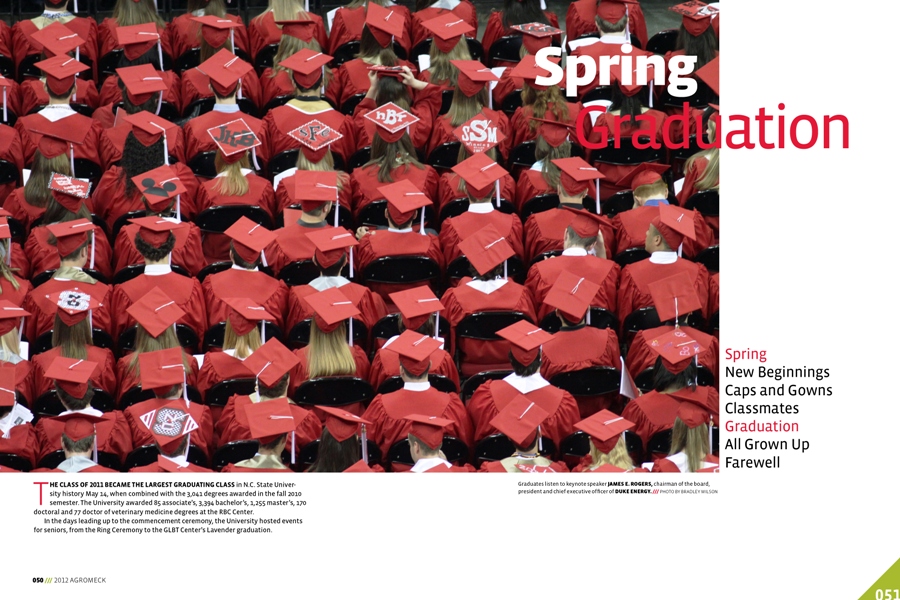 Agromeck is a spring delivery year in review. These pages from the beginning of the 2012 edition feature the spring 2011 graduation ceremony.