Yearbook named national champion
Submitted by

Jamie Lynn Gilbert

on Tue, 03/20/2012 - 11:13am
As eyes were glued to TV sets watching the N.C. State men's basketball team defeat Georgetown to advance to the Sweet Sixteen in the NCAA Tournament, one of the school's most award-winning teams was taking home another national championship. Columbia Scholastic Press Association announced March 18 it had selected the 2011 Agromeck as one of seven collegiate yearbooks to earn its prestigious Gold Crown award, an honor roughly equivalent to winning a national championship in athletics. This win marks Agromeck's fourth Gold Crown in four years.
The 2011 Agromeck, edited by Susannah Brinkley under adviser Bradley Wilson, has already collected a slew of Gold Circle awards from the Columbia Scholastic Press Association along with accolades from the Associated Collegiate Press, College Media Association and North Carolina College Media Association. Update: Just two days after winning the Gold Crown, Associated Collegiate Press named Agromeck a finalist for its Pacemaker award. The Gold Crown and Pacemaker are the two highest honors given to college yearbooks."Winning a Gold Crown is such an honor," Brinkley said. "My staff and I produced another yearbook that we, ourselves and our University, can truly be proud of. It is humbling to receive this kind of national recognition. It shows that our good work has extended beyond the realms of the Wolfpack community."
Members of the 2011 Agromeck staff included: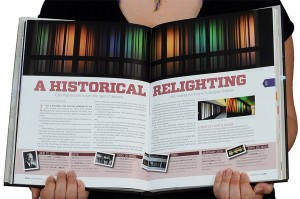 The 2011 Agromeck yearbook was honored with a Gold Crown, one of the highest honors in collegiate journalism. Photo contributed by Susannah Brinkley.
Susannah Brinkley, editor
Brent Kitchen, sports editor
Marisa Akers, photo editor
Luis Zapata, assistant photo editor (fall)
Jordan Moore, assistant photo editor (spring)
Kelly McDonough, design editor (fall)
Sarah Stadler, design editor (spring)
Stephanie Doss, assistant design editor
Kathryn Glaser, assignments editor (summer)
Amanda Corbett, promotions manager (fall)
Alex Sanchez, promotions manager (spring)
Reporters: Joanna Banegas, Joshua Chappell, Zachary Diezel, Chelsey Francis, Nathan Hardin, Mark Herring, Amanda Kaufman, Meggie Leftwich, Sara Taormina
Photographers: Aaron Andersen, Renee Baker, Josh Bielick, Alex Canoutas, Drier Carr, Natalie Claunch, Mikayla Craig, Caitlin Conway, Kevin Cook, Lee Daniello, Megan Farrell, Michelle Fidelia, Katie Fraboni, Amanda Gentry, David Hawley, Kayu Ho, Hannah Jaffee, Amanda Karst, Trinh Le, Kent Mahoney, Jonathan Millner, Andy Musselman, Danielle Neujahr, Alex Nitt, Tim O'Brien, Kimberly Rochester, Alex Sanchez, Ayanna Seals, Tyler Thompson, Sarah Tudor, Adam Vaden, Jonathan Vogel, Maria White, Amanda Wilkins
Designers: Alexis Bethea, Darius Dawson, Danielle DeFeo, Kathryn Glaser, Katy Gragnani, Gabrielle Jenkins, Morgan Jones, Trinh Michelle Ngo, Megan Perry, Kiley Schiffman, Laura Wilkinson, Jasmine Williams, Lauren Wrenn
Copy editors: Alex Sanchez, Kate Shefte