NCSU Student Media win national awards
Submitted by

Bradley Wilson

on Tue, 11/02/2010 - 12:47pm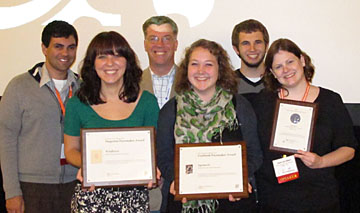 (Back) Kieran Moreira, Bradley Wilson, Alex Sanchez; (front) Marisa Akers, Susannah Brinkley and Jamie Lynn Gilbert
N.C. State's yearbook, literary magazine, daily newspaper and radio station were all honored at the national convention of the College Media Advisers, Associated Collegiate Press and College Broadcasters in Louisville, Oct. 31. The yearbook and literary magazine came home with top national honors. The literary magazine was also named the Best of Show in its category. In addition, students at WKNC 88.1 fm received recognition as Best Radio DJ, Best Regularly Scheduled Program and Best Student Media Website.
YEARBOOK | LITERARY MAGAZINE | RADIO | BEST OF SHOW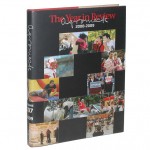 The NCSU Agromeck yearbook was one of only four schools nationwide to be recognized with the Pacemaker award, the nation's highest, from the Associated Collegiate Press at the national media convention in Louisville, Oct. 31.
"Only seven universities had yearbooks that received the Pacemaker," adviser Bradley Wilson said. "This definitely puts the NCSU yearbook in an elite class of collegiate publications. Our students work hard to document the final draft of the student version of history at NCSU. I'm continually proud of the leadership they provide on campus."
The Associated Collegiate Press gave the award to the 2009 Agromeck yearbook edited by John Cooper Elias; Bryant Robbins, design editor; Michele Chandler, photo editor; Taylor McCune, assignments editor.
This was the fourth time the NCSU yearbook has won a Pacemaker. It also won in 2004, 2007 and 2008. It was a finalist for the national award in 2006. This year, only 15 schools were finalists making even being a finalist an honor nationally.
The magazine was printed by Balfour publishing in Dallas, Texas represented by Josh Lovell in North Carolina.
According to ACP, 55 ACP member yearbooks entered the contest, 14 of which were selected as finalists. Four judges with extensive professional and scholastic journalism experience traveled to Minneapolis in January to make the selections. Judges considered the following factors when selecting the finalists: thorough coverage and content, sophisticated design, exemplary writing and editing and outstanding photography. "This book, and this staff, are definitely competing at a national level, bringing recognition to the campus and the North Carolina community," Wilson said.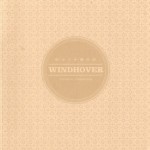 This year, of the six finalists in the magazine Pacemaker national competition, three were given the top award, including N.C. State's Windhover literary and arts magazine. Indeed, all three of the award recipients were from North Carolina universities, including the University of North Carolina - Charlotte and Elon University.
Senior staff members of the 2009-2010 edition include: Editor Helen Dear; Literary and Audio coordinators Joe Wright and Mollie Mohr; Designers Toni Chester, Courtney Johnson and Jeremy Purser; Production Assistant Shaadé Oliveros-Tavares. The magazine was printed by Theo Davis Printing in Raleigh.
The Windhover has received 11 Pacemaker awards from ACP for editions produced in 1992, 1994, 1996, 1998, 1999, 2000, 2001, 2002, 2003, 2004 and 2007.
The ACP Magazine Pacemaker awards honor general excellence in collegiate magazines and are divided into two categories: feature and literary magazines. This year, the feature magazines were judged by Texas Monthly, and the literary magazines were judged by Milkweed Editions.
Three NCSU publications also placed in the Best of Show competition, a ranking of publications who submitted entries at the national convention of the College Media Advisers, Associated Collegiate Press and College Broadcasters in Louisville. About 2,300 students attended that convention.
The 2010 Windhover literary and arts magazine edited by Helen Dear placed first in Best of Show.
For the 2010 summer New Student Orientation issue, the Technician placed third.
And in the yearbook category for yearbooks with 300 or more pages, the Agromeck placed fifth.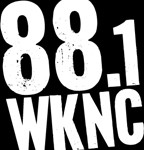 'WKNC 88.1 FM captured four finalist nominations in three categories in College Broadcasters, Inc.'s national student production awards. For the first time, the station won the top award – and in all three categories.
Mike Alston and Kelly Reid, on the air as DJ Mick and Mz. Kelly, were named Best Radio DJ. Alston, who graduated in May with a degree in civil engineering, served as the station's general manager for the 2009-2010 academic year. Reid earned her second bachelor's in chemistry in August 2010 while she worked as the station's head music director. Reid was previously named a finalist for Best Radio DJ in Independent Weekly's 2009 Best in the Triangle reader's poll.
Alston and Reid's work on WKNC's public affairs program Eye on the Triangle won him top honors in the Best Regularly Scheduled Program category. Their segment "First Friday," aired Nov. 9, 2009, took listeners to downtown Raleigh for a look at its monthly First Friday art showcase. WKNC's was also a finalist for Best Regularly Scheduled Program for "Musicology: Americana." Hosted by Matt Gossett, a sophomore in film studies, Musicology was an hour-long look at a specific musical genre, time period or artist and aired in the spring 2010 semester. Caitlin Cauley, a senior in English and host of WKNC's Americana, Blues and Company, joined Gossett on the program to discuss and listen to the Americana genre. Cauley and former Americana co-host Steve McCreery were honored as finalists for Best Radio DJ from College Broadcasters, Inc. in 2008.
The station's third win was for Best Student Media Website for wknc.org. This category was open to student radio and television stations, while the other awards were exclusively for radio.
"Everything a listener would want or need is easy to find and just a click or two away," noted the contest judge. "An amazing range of every active blogs connects listeners to local bands, listener polls, venues, promotions, and archives of in-studio interviews and performances. In a category with four very strong finalists, WKNC's site gets the edge for taking the time to provide extensive external links throughout the site, making it a true destination and information source for its listeners."
WKNC earned finalist awards in College Broadcasters, Inc.'s national student production awards in 2007 for Best Station Promotion, in 2008 for Best Newscast and Best DJ, and in 2009 for Best Newscast.