Wilson honored for service to scholastic journalism
Submitted by

Bradley Wilson

on Tue, 06/24/2008 - 11:10am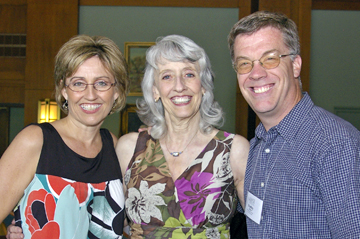 Kay Phillips, center, former director of the North Carolina Scholastic Media Association at UNC-Chapel Hill, presented Robin Sawyer (left), publications adviser at First Flight High School in Manteo, and Bradley Wilson (right), publications adviser at North Carolina State University, with the NCSMA Distinguished Service Award June 19, 2008. Photo by Tyler Anastasi
CHAPEL HILL – Bradley Wilson, coordinator of student media advising at N.C. State University, has been awarded the Kay Phillips Distinguished Service Award from the North Carolina Scholastic Media Association.
The award, named in honor of the first full-time director of the association, recognizes two individuals each year who have supported the state's scholastic journalism association and its mission. Robin Sawyer, journalism teacher at First Flight High and former Dow Jones National High School Journalism Teacher of the Year, also received the 2008 Kay Phillips Award.
"Both of them display year after year true dedication to NCSMI. They bring great energy and passion for scholastic journalism," said Monica Hill, director of the NCMSA.
Wilson was cited for his service as a summer workshop instructor and for his dedication to journalism education in the state.
Nominator Mark Harrison, journalism teacher at T.C. Roberson High in Asheville, wrote, "It is unreal how much this man has done for not only high school journalism, but also collegiate journalism as well. As anyone can tell by just talking to him or reading the manuals that N.C. State's media puts out, you know he is top-notch when it comes to quality. But spend five minutes with him, and you will realize that his humor can make almost anything he teaches that much more real. His work with the (N.C. Scholastic Media) Institute has been so extensive, you almost forget that he is giving his time to be here. I honestly can't think what it would be like without him. Add to all of this his work on national curriculum textbooks for journalism and you have an individual well beyond deserving of this award."
In an article by Kesha Hudson published in "The Rush," a workshop publication released on the last day of the summer workshop and produced by students at the workshop, Phyllis Cooper, newspaper adviser from A.C. Reynolds High School said, "Bradley, to me, has a rare gift. He is a genius with photography and technology and yet he has the ability to bring the information down to an elementary level so beginner photojournalists can benefit from his vast experience and knowledge."
Phillips presented the award to Wilson during the closing awards brunch of the N.C. Scholastic Media Institute on June 21. Wilson had served as photography instructor for the Institute.